Commercial Security Services & Systems Vancouver | 24/7 Business Security
As a trusted name for Commercial Security Services & Systems in Vancouver, Vista Security designs distinct solutions for various industries. Our seasoned team ensures the safety of your assets, offering reliable security innovations based on our comprehensive knowledge of business security services. We provide tailored solutions matching your specific security needs, with our Security Guards and Mobile Patrol Units constantly vigilant, creating a secure business environment.
Why do large corporations require commercial security services? To protect their crucial assets, prevent incidents, and secure a workspace that fosters productivity and continuity. Our services at Vista Security respond quickly to critical situations, addressing security alarms promptly, reducing risks, and ensuring an inviting yet secure environment through our Security Concierge Services. Our Private & Corporate Investigations Services gather essential information subtly, while our Loss Prevention experts safeguard a secure retail environment, curbing losses from theft and similar incidents.
Commercial Security Services & Systems in Vancouver get a new definition with our cutting-edge security systems at Vista Security. With our constant CCTV/IP Security Cameras monitoring and Access Control Security Services, you control your premises' entry, enhancing security and restricting unauthorized access. Trust Vista Security for all-encompassing security solutions to focus on driving your business forward. Connect with us today to find out more about our business security solutions. 
Your Partners in Vancouver's Security – Leading Commercial Security Systems and Services
Vista Security is the premier destination for top-notch commercial security services and systems in Vancouver. With over 2.5 million residents and a thriving economy, Metro Vancouver is a dynamic metropolis known for its picturesque landscapes, bustling business districts, and vibrant cultural scene. However, ensuring the safety and security of businesses, properties, and events becomes paramount as the city grows. As an accredited partner, we offer comprehensive expert security solutions designed to meet Vancouver's diverse industries and organizations' unique needs.
Our team of extensively trained security guards brings years of experience and expertise, ensuring the utmost protection for your commercial property. Whether you need security for your retail store, office building, or industrial facility, our Security Guard and Mobile Patrol Security services are tailored to offer a visible and influential presence that deters potential threats. Additionally, our Alarm Response Security & Protection ensures rapid and reliable responses to any emergencies that may arise. Vancouver's bustling economy and vibrant event scene make it a prime location for corporate gatherings, trade shows, and public events. Our Event Security Services offer meticulous planning and execution to guarantee your event's safety and smooth flow, while our Fire Watch Security ensures compliance with fire safety regulations. Our security concierge services also provide a warm and welcoming presence for residential and commercial properties.
As a leading provider of commercial security services in Vancouver, Vista Security also specializes in Private & Corporate Investigations and Loss Prevention services. Our skilled investigators employ the latest technology and tactics to uncover crucial information, while our loss prevention strategies protect businesses from theft and shrinkage. Vancouver's iconic landmarks, such as Stanley Park and the Vancouver Art Gallery, attract tourists and locals alike, making Mall Security and Gatehouse Security crucial in maintaining a secure environment for visitors and businesses. Our comprehensive CCTV/IP Security Camera systems and Access Control Security Services enhance surveillance capabilities and effectively control your premises' access.
That's why our team of experts works closely with you to develop customized security solutions tailored to your requirements. With our state-of-the-art Alarm Security Systems and Security Technology, you can trust Vista Security to safeguard your business and assets in Vancouver. Contact us today to discuss your security needs and experience the Vista Security difference.
Commercial Security Services in Vancouver
Protecting your business in Vancouver is of utmost importance, and at Vista Security, we are dedicated to providing top-notch Commercial Security Services that ensure the safety and well-being of your premises. With a strong presence in this bustling Canadian city, we understand businesses' unique security challenges. Our business security solutions are designed to safeguard your property, assets, and personnel, so you can focus on running your operations with peace of mind.
Our team of highly trained security guards is the cornerstone of our Commercial Security Services, equipped with knowledge and expertise to handle various security situations. Whether you operate a retail store, office building, or warehouse, our security guards are adept at providing vigilant surveillance, deterring potential threats, and responding to security incidents.
In addition to our expert security personnel, we offer advanced security technology solutions tailored to your specific needs. Our CCTV/IP Security Camera systems comprehensively monitor your premises, allowing you to monitor all activities closely. Moreover, our Access Control Security Services help you regulate access to restricted areas, adding more protection to your property. From alarm security systems to cutting-edge security technology integration, we have you covered with the latest tools to fortify your business against potential threats.
Vancouver is known for its economic vitality, bustling commercial centers, and vibrant events. As such, it attracts a diverse range of businesses and visitors. At Vista Security, we recognize the significance of securing your business and events. Our comprehensive Event Security Services ensure that your gatherings, conferences, and special occasions proceed smoothly, with trained security personnel managing crowd control and emergency response. Trust us to safeguard your business, and let Vista Security be your reliable partner in Commercial Security Services in Vancouver.
Reliable Commercial Security Systems in Vancouver
When protecting your business in Vancouver's competitive landscape, investing in cutting-edge Commercial Security Systems is not just a prudent choice, it's a necessity. At Vista Security, we are committed to providing comprehensive security solutions that cater to the unique needs of businesses in this dynamic city.
Our Commercial Security Systems offer a range of advanced features to keep your establishment secure round-the-clock. With our state-of-the-art CCTV/IP Security Cameras strategically placed throughout your premises, you can effectively monitor critical areas in real-time and deter potential threats. Whether you run a retail store on Robson Street or a bustling office in the Financial District, our surveillance systems offer unparalleled visibility and peace of mind.
Access Control Security Services play a crucial role in managing the flow of people within your business. Our sophisticated access control solutions allow you to grant access to authorized personnel only, preventing unauthorized entry to sensitive areas. From fingerprint recognition to proximity cards, we offer various access control options tailored to your requirements.
When you choose Vista Security for your Commercial Security Systems in Vancouver, you select a team of experts dedicated to your safety. Every business is unique, so we work closely with you to design a custom security solution that fits your needs and budget. Don't leave the security of your business to chance; let Vista Security be your trusted partner in safeguarding your success.
Contact us today for a free consultation, and discover how our Commercial Security Systems can elevate your business's security to the next level. Vancouver's thriving economy demands robust security measures, and with Vista Security on your side, you can face the future with confidence. Protect what matters most with our reliable and innovative security solutions today!
Continuous 24/7 Emergency Commercial Security Services in Vancouver
Vista is not only committed to providing security but also fostering a peaceful environment. Our pledge drives us to offer uninterrupted round-the-clock Emergency Commercial Security Services in Vancouver. Whether it's an urgent situation, a question to be answered, or a unique requirement, we're always here to assist. Reach out to us anytime – we're dedicated to your service!
In addition to being the Leading Commercial Security Services & Systems Provider in Vancouver, we also proudly serve: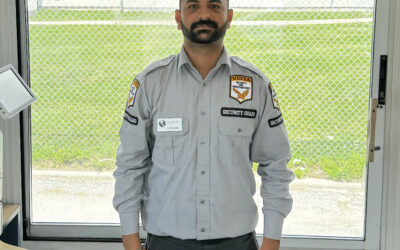 Employee Spotlight:Every quarter, we at Vista Security & Investigations like to shine the...