Leading Commercial Security Services & Systems in Milton
Vista Security is a leading figure in the field of Commercial Security Services & Systems in Milton, committed to providing ultimate safety measures for your enterprise. We comprehend the value of your business and pledge to protect it tirelessly. In a city that never rests, it's crucial that your security measures are proactive, and that's where Vista Security shines. Our state-of-the-art CCTV/IP Security Camera Systems, advanced Access Control Services, and dependable Alarm Systems promise a security blanket unlike any other, letting you focus on your business while we secure your environment.
 Our skilled team, leveraging the latest technology, persistently paves the way in innovation, offering top-tier security solutions that don't merely react to threats, but actively deter them. From our diligent Security Guards and rapid Mobile Patrol Security to our insightful Private & Corporate Investigations Services, we blend seamlessly into your operations, creating a fortified, resilient environment.
 No matter the scope or nature of your business, from chic retail outlets to extensive office buildings, our security services in Milton are tailored to your unique requirements, ensuring comprehensive, unyielding protection. With specialized services, such as Security Concierge Services, Loss Prevention, Event Security Services, Fire Watch Security, Mall Security, and Gatehouse Security, we further bolster your security architecture. Ready to safeguard your future? Experience the peace of mind that comes with collaborating with Milton's top commercial security provider – Vista Security. Welcome to an era of heightened security.
Vista Security – Milton's Premier Provider of Commercial Security Services & Systems
Vista Security is proud to offer comprehensive security solutions in the thriving city of Milton, one of Ontario's fastest-growing municipalities with a population of over 151,000 residents. Our security services are tailored to meet the unique needs of businesses and institutions in this vibrant community, which is known for its beautiful parks, diverse culture, and strong economy. Milton's key landmarks, including the Milton District Hospital and the Mattamy National Cycling Centre, showcase the city's commitment to fostering a safe and prosperous community.
Our services include top-notch Security Guard and Mobile Patrol Security assistance, which are crucial for safeguarding businesses and properties across Milton. Additionally, our Alarm Response Security & Protection, Security Concierge Services, and Loss Prevention services ensure that your valuable assets remain secure. We recognize the importance of events for Milton's thriving community, which is why we also provide Event Security Services to create a safe environment for large gatherings.
At Vista Security, we understand the value of integrating advanced technology with security services. We offer state-of-the-art Security Technology, including cutting-edge CCTV/IP Security Camera systems and Access Control Security Services. Our team of experts specializes in Alarm Security Systems, ensuring that your premises are monitored and protected around the clock. In the bustling city of Milton, trust Vista Security to be your comprehensive security partner for both services and systems.
Commercial Security Services in Milton
In Milton's vibrant urban setting, Vista Security has been a trusted protector of businesses since 1993. More than just a provider of commercial security services, we are a certified partner, unwavering in our commitment to your safety and the prosperity of your venture.
Our role as a top provider of Commercial Security Services in Milton extends beyond mere service delivery. We understand the pulse of this dynamic city and customize our commercial security solutions to cater to its unique needs. Using cutting-edge security technology coupled with our industry knowledge, we deliver holistic, reliable protection for businesses like yours.
From alert Security Guard Patrols to cutting-edge Alarm Monitoring in Milton, we provide a full spectrum of services to ensure your business's safety and security. Our highly skilled security staff and state-of-the-art security alarms collaborate to form a robust shield of protection around your business.
What truly distinguishes us in the realm of business security is our adaptive approach. We continuously evolve and refine our security solutions to stay abreast of emerging threats, ensuring your business is always safeguarded. Whether you need a comprehensive security strategy or specific services like Security Guard Patrol or Alarm Monitoring in Milton, consider Vista Security your go-to partner. With our accredited security services, you can rest easy knowing your business is in safe, professional hands.
Commercial Security Systems in Milton
Elevate your enterprise's security stature with Vista's elite Commercial Security Systems in Milton. Offering advanced protection, we prioritize the safety of your staff, operations, and tangible assets. Collaborating with a network of trusted technology partners, we roll out sophisticated systems that cater to the unique needs of each client, making us the preferred choice for Commercial Security Systems in Milton.
 In today's fast-evolving digital arena, securing your business extends beyond mere physical locks. To this end, our comprehensive suite includes high-definition Commercial Surveillance Cameras in Milton. Our array of CCTV and IP video surveillance solutions deliver unrivalled visual clarity, ensuring you're always in the know. Alongside innovative technology, these surveillance systems serve as your business's ceaseless watch, monitoring every nook and cranny of your premises around the clock.
 Beyond surveillance, Vista's services empower businesses with our refined Access Control Systems for Businesses. These systems are intricately designed to offer strict control over who or what interacts with your organization's most prized assets. From single-door to multi-site systems, our access control solutions ensure you have an ultimate say on entry permissions, offering an additional tier of security.
 Supplementing our surveillance and access control systems, we offer highly dependable Alarm Monitoring Services in Milton. With a team of devoted professionals working tirelessly, our alarm monitoring services assure prompt response to security threats, providing real-time interventions when needed.
 Among the Security System Installation Companies in Milton, Vista sets the bar. Our adept technicians oversee the entire installation process, from initial consultation and system design to deployment and regular maintenance. Trust us to deliver a seamless, stress-free installation experience, thus minimizing any potential disruption to your day-to-day business operations.
 Discover why businesses across Milton choose Vista for unparalleled protection. We believe in delivering security that not only safeguards assets but also instills confidence. With our state-of-the-art commercial security systems, we are committed to making Milton a safer place for businesses to prosper.
24/7 Business Security and Emergency Service in Milton
With Vista, it's not just about security; it's about ensuring peace of mind. That's why we offer 24/7/365 security and emergency service. Have an emergency, a question or a request? Give us a call anytime; we're always ready to assist!
In addition to being one the most trusted Commercial Security Services & Systems Providers in Kitchener, we also proudly serve: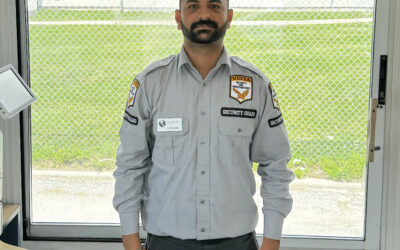 Employee Spotlight:Every quarter, we at Vista Security & Investigations like to shine the...