Commercial Security Services & Systems in Montreal | 24/7 Business Security
Vista Security, your premier provider of Commercial Security Services & Systems in Montreal, ensures your business's safety. Regardless of whether you're a small boutique or a large corporation, our extensive range of services like advanced surveillance systems, access control solutions, or round-the-clock alarm monitoring, offers a level of protection that breeds confidence.
Our team's continuous training in the latest security techniques and cutting-edge technology is the cornerstone of Vista Security. By spotting potential vulnerabilities and developing customized security blueprints, we offer businesses under our watch the highest level of defense. We remain prepared for potential threats in a rapidly evolving world, and our investment in advanced surveillance systems, biometric access control, and intrusion detection minimizes security breaches.
Acknowledging that threats don't clock off, our services operate 24/7. With a dedicated team maintaining constant surveillance on your premises, we respond immediately to any security alerts or emergencies. Trusting Vista Security means you can rest easy knowing your business is protected day and night.
We prioritize client satisfaction, and our customer-focused approach helps us forge durable relationships. Vista Security stands as a dependable ally for your commercial property's safety in Montreal. With our security solutions, experienced team, and steadfast dedication, we guarantee a more secure future for your business. Reach out for a consultation today and take the first stride towards a safer tomorrow.
Trusted Commercial Security Services Provider In Montreal
As the bustling city of Montreal continues to thrive with its vibrant blend of cosmopolitan charm and cultural heritage, the need for comprehensive and reliable commercial security services has become paramount. Vista Security is the heart of this dynamic metropolis, the premier provider of tailored security solutions dedicated to safeguarding the people, businesses, and infrastructure that make Montreal a genuine economic and cultural hub.
Montreal presents a unique set of security challenges with a population exceeding 4.3 million and serving as headquarters for numerous major industries, including a thriving corporate sector. Vista Security understands this bustling urban landscape's diverse and evolving security needs, and we take pride in our commitment to delivering top-tier Commercial Security Services & Systems in Montreal. Our range of services is designed to address the multifaceted security requirements of the city's diverse community. Whether it's Mobile Patrol Security to ensure safety in busy commercial centers or Security Concierge Services for prestigious corporate establishments, our professional Security Guards and agile Mobile Patrol units stand ready to provide peace of mind to our valued clients.
In addition to proactive measures, Vista Security also excels in Private & Corporate Investigations Services, playing a pivotal role in risk mitigation and security risk assessments for local businesses. We understand that businesses need more than just a one-size-fits-all approach, and our expert investigators tailor their strategies to cater to each client's specific needs. Moreover, our Alarm Response Security & Protection services bolster Montreal's safety net, guaranteeing swift and efficient interventions during emergencies. With our state-of-the-art CCTV/IP Security Camera and Alarm Security Systems, we enable continuous surveillance and rapid threat detection, augmenting the overall security landscape of public spaces and corporate environments.
Vista Security stands at the forefront of the security industry, leveraging cutting-edge technology and industry expertise to provide unparalleled services that enhance Montreal's security infrastructure. Our advanced Access Control Security Services empower businesses to regulate and monitor access to their premises efficiently, adding an extra layer of protection in a city known for its bustling economy and thriving business environment.
PROFESSIONAL COMMERCIAL SECURITY SERVICES IN MONTREAL
At Vista Security, we're your trusted provider for Commercial Security Services in Montreal. Our comprehensive suite of services ensures the safety and security of your business. Our Security Guard and Mobile Patrol Security services provide constant vigilance, with trained professionals monitoring your premises around the clock. We're always ready to respond to any situation, ensuring your business is always protected.
In addition to on-site security, we offer Alarm Response Security & Protection services. Our team is prepared to respond swiftly to any alerts, addressing potential issues promptly to minimize disruption. Our Security Concierge Services further enhance your security profile, offering a professional and secure front-of-house experience for your visitors. This service combines hospitality and security, ensuring a welcoming yet safe environment.
Our suite of services also includes Private & Corporate Investigations Services, handled with utmost discretion and professionalism. Whether you need to investigate internal matters or external threats, our experienced investigators provide thorough and reliable services. We also offer Loss Prevention strategies to help you minimize business risks and protect your assets, using a combination of advanced strategies and technologies.
Finally, we specialize in Event Security Services, Fire Watch Security, Mall Security, and Gatehouse Security. These services provide comprehensive protection for various commercial settings, from corporate gatherings to shopping centers and residential communities. With Vista Security, you're choosing a trusted partner dedicated to your safety and satisfaction. Contact us today for a consultation and take the first step towards a safer tomorrow with our Commercial Security Services in Montreal.
Leading Provider of Commercial Security Systems in Montreal
In the bustling metropolis of Montreal, businesses face an array of challenges daily. One of the most pressing concerns is ensuring the safety and security of their premises, employees, and valuable assets. In this fast-paced world, the need for robust and cutting-edge Commercial Security Systems has never been greater. Imagine a comprehensive security solution tailored to your business's unique needs – that's what Commercial Security Systems offer. These integrated systems combine state-of-the-art technology with expert protocols to create a formidable shield against potential threats.
From video surveillance cameras capturing every movement to access control systems regulating entry points, these systems work in harmony to fortify your business. Intrusion detection systems stand guard, detecting any unauthorized entry and activating alarms to alert the authorities. This holistic approach creates a secure environment, giving business owners peace of mind. Beyond tangible benefits, these systems play a vital role in deterring criminal activities. The mere presence of surveillance cameras and alarm systems acts as a potent deterrent, discouraging wrongdoers from even considering illicit acts. Moreover, investing in Commercial Security Systems can lead to reduced insurance costs. Insurance providers view businesses with comprehensive security measures as lower risks, often offering premium discounts as a result.
In Montreal's ever-evolving landscape, embracing the latest security technologies is paramount. Businesses can't afford to leave their security to chance. By fortifying their premises with state-of-the-art Commercial Security Systems, they ensure their growth and success in an increasingly competitive world.
Safeguarding your business with a robust Commercial Security System is not an option; it's a necessity. From deterring criminals to protecting your assets, these systems empower you to run your business with confidence. So, take the first step towards a safer tomorrow and invest in the best Commercial Security System tailored for your business in vibrant Montreal.
Around-the-Clock Emergency Commercial Security Services in Montreal
At Vista, we're about more than simply supplying security; we're about fostering peace of mind. This drive fuels us to maintain round-the-clock Emergency Commercial Security Services in Montreal. Encountered an emergency, need a query addressed, or have a special request? Feel free to contact us at any hour. We are always available and committed to serving you!
In addition to being the Premier Commercial Security Services & Systems Provider in Montreal, we also proudly serve: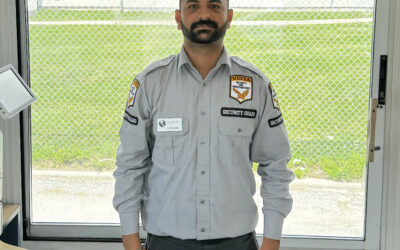 Employee Spotlight:Every quarter, we at Vista Security & Investigations like to shine the...