Experts in Commercial Security Services & Systems Oakville | Business Security
Welcome to Vista Security, your trusted source for commercial security services and systems in Oakville. We are committed to providing top-tier protection solutions for businesses across all sectors. With our proven record of enhancing safety and security, we have become a preferred choice for numerous businesses in these regions.
 Our comprehensive suite of services includes Security Guard services, Mobile Patrol Security, and Alarm Response Security & Protection. Vista Security provides robust solutions for each client's unique needs, ensuring that your property, assets, and personnel are secure. From Security Concierge Services and Private & Corporate Investigations Services to Loss Prevention, Event Security Services, Fire Watch Security, Mall Security, and Gatehouse Security, we strive to meet every security challenge.
 At Vista Security, we understand the vital role that advanced systems play in today's security landscape. To that end, we offer a range of sophisticated security systems, such as CCTV/IP Security Cameras, Access Control Security Services, and Alarm Security Systems. With these state-of-the-art systems, we provide unrivalled security coverage that leaves no blind spots in your business premises.
 With Vista Security, you can rely on the power of advanced security technology. Our adept team is dedicated to ensuring your business remains safe, secure, and well-guarded at all times. Choose Vista Security for your Commercial Security Services & Systems needs. Let us provide you with the peace of mind you deserve.
Oakville's Specialists in Commercial Security Services & Systems
Located in the Halton Region of Southern Ontario, Oakville is a vibrant town that serves as a hub for commerce, culture, and community. With a population of approximately 230,000 residents, the town boasts unique landmarks like the Oakville Lighthouse and Bronte Harbour. The thriving local businesses and residential neighbourhoods in Oakville need reliable security solutions, and that's where Vista Security comes in.
 Vista Security offers a comprehensive suite of Commercial Security Services & Systems in Oakville to keep your property safe. Our services include Security Guard services, Mobile Patrol Security, Alarm Response Security & Protection, and Security Concierge Services, to name a few. Each of these services is tailored to your specific needs, whether you're looking for personalized protection for your commercial space or specialized surveillance for a corporate event.
 In addition, we integrate state-of-the-art security systems to strengthen our services. Our technology suite includes CCTV/IP Security Cameras and advanced Access Control Security Services, providing you with round-the-clock surveillance and control over who enters and exits your premises. Coupled with our Alarm Security Systems, Vista Security offers a robust defence mechanism against potential threats. Trust Vista Security in Oakville to safeguard your assets and provide peace of mind in your daily operations.
Oakville's Reliable Commercial Security Services Provider
Situated at the lively hub of Ontario, Oakville, Vista Security has upheld its role as a reliable guardian for businesses since 1993. We're more than just a security service for enterprises; we are an accredited partner passionately dedicated to your safety and the prosperous evolution of your business.
 As a leading provider of Business Security Services in Oakville, our dedication extends far beyond the provision of standard services. We harmonize with the pulse of this vibrant city, tailoring our business security strategies to satisfy its distinctive needs. By integrating cutting-edge security technology with our expansive industry knowledge, we deliver comprehensive and reliable security measures for businesses of all scopes.
 From diligent Security Patrol Teams to inventive Alarm Surveillance, our extensive offerings safeguard your business's security. Our adept security personnel and state-of-the-art security systems together create a formidable defensive barrier for your premises.
 Our proactive methodology distinguishes us in the business security field. We consistently adapt and amplify our security tactics to counter evolving dangers, ensuring your enterprise remains perpetually protected.
 Whether you require an all-encompassing security plan or specific services like Security Patrol Teams or Alarm Surveillance, Vista Security is your dependable ally for Business Security Services in Oakville. Place your trust in our certified security services, and rest assured that your business is being monitored by seasoned experts.
Oakville's Expert Commercial Security Systems Provider
Experience superior business protection with Oakville's foremost Commercial Security Services & Systems, proudly provided by Vista Security. We supply unparalleled security solutions centred on the safeguarding of your team, operations, and tangible assets. Together with our extensive network of technological partners, we present innovative systems, custom-fitted to cater to each client's individual needs, reaffirming our position as Oakville's most dependable Commercial Security Services & Systems provider.
 In our tech-savvy era, security transcends traditional locks and keys. Understanding this, we're delighted to present our broad range of superior Commercial Surveillance Cameras in Oakville. Our combined CCTV and IP video surveillance systems offer outstanding image clarity, ensuring no critical activity escapes attention. Driven by cutting-edge technology, these surveillance systems act as watchful guardians of your business premises, providing continuous monitoring.
 Our offerings exceed mere surveillance. We equip businesses with our intelligently designed Access Control Systems. Each system is intricately designed to provide comprehensive control over interaction with your organization's valuable assets. Be it for single-door applications or multi-site facilities, our access control systems enable you to dictate entry permissions, thereby bolstering your security.
 Complementing our surveillance and access control services, we also offer robust Alarm Monitoring Services in Oakville. Managed by a team of dedicated professionals, our alarm monitoring system guarantees swift and decisive responses to any security threats, enabling real-time interventions when necessary.
 As one of Oakville's top Security System Installation Services, Vista's commitment to quality is unmatched. Our team of skilled technicians oversees the entire installation process, from initial consultation and system design to deployment and regular maintenance. Our aim is to ensure a seamless installation experience, thereby minimizing potential disruptions to your day-to-day business operations.
 Discover why businesses across Oakville choose Vista for their security needs. We believe that security is more than just asset protection—it's about instilling confidence and nurturing resilience. Through our innovative Commercial Security Services & Systems, we remain dedicated to fostering a safer business environment in Oakville.
24/7 Emergency Commercial Security Services in Oakville
At Vista, our priority goes beyond simply providing security; it's about delivering a sense of tranquillity. This commitment drives us to offer round-the-clock, 24/7 Emergency Commercial Security Services in Oakville. Encountered an emergency, need a question answered, or have a special request? Feel free to reach out to us at any time. We are always ready and dedicated to serving you!
In addition to being the Premier Commercial Security Services & Systems Provider in Oakville, we also proudly serve: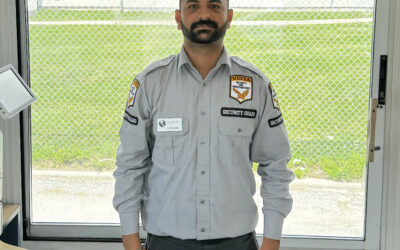 Employee Spotlight:Every quarter, we at Vista Security & Investigations like to shine the...