Etobicoke's Premium Provider of Commercial Security Services & Systems | Business Security
Etobicoke relies on Vista Security as a credible source for comprehensive Commercial Security Services & Systems. Our objective is to create custom-designed security strategies that assure the safeguarding of your property, employees, and assets, configured to fit your explicit requirements.
 Our wide range of service offerings includes professional Security Guard services, dynamic Mobile Patrol Security, rapid Alarm Response Security & Protection, and unique Security Concierge Services, evidencing our expansive competencies. We excel in executing Private & Corporate Investigations, striving for your mental tranquillity. Our capabilities span across Loss Prevention, Event Security Services, Fire Watch Security, Mall Security, and Gatehouse Security – your safety is our top priority.
 Regarding our security systems, we utilize progressive technology to safeguard your commercial spaces. Our CCTV/IP Security Cameras provide real-time monitoring, assuring continuous surveillance of your surroundings. Our advanced Access Control Security Services give you the autonomy to regulate and supervise staff movement, boosting security. Our cutting-edge Alarm Security Systems use state-of-the-art technology to spot potential threats, assuring an immediate reaction to any security infringements.
 Trust in Vista Security for comprehensive and reliable Commercial Security Services & Systems in Etobicoke. Our commitment to high standards distinguishes us as the top choice for businesses seeking a secure environment. Your security is our command.
Etobicoke's Experts in Commercial Security Services & Systems
Situated in the heart of Etobicoke, a bustling city with a diverse population of over 365,000, Vista Security proudly offers a comprehensive suite of commercial security services and systems. Etobicoke, renowned for its vibrant cultural scene, prominent landmarks, such as the Humber Bay Park, and its thriving commercial centres, demands superior security solutions to safeguard its businesses and people. Understanding the local needs, Vista Security has tailored its offerings, ensuring the city's unique security needs are adequately met.
 Our wide array of services includes Security Guard Services, Mobile Patrol Security, and Security Concierge Services, all meticulously designed to provide an unparalleled level of protection. We also specialize in Private & Corporate Investigations Services, which have been instrumental in solving numerous cases in the city. Furthermore, our bespoke Event Security Services and Fire Watch Security are utilized by various events and businesses in Etobicoke, ensuring safety while maintaining an inviting atmosphere.
 Complementing our expert services, we also offer a range of top-notch security systems, such as CCTV/IP Security Cameras and Alarm Security Systems. Vista Security understands that every business has unique needs; that's why our Access Control Security Services are customized to provide the highest degree of control and monitoring over your premises. We leverage the latest in Security Technology, providing Etobicoke's commercial spaces with the best-in-class protection. Trust Vista Security, Etobicoke's local security experts, to safeguard your enterprise against potential risks and uncertainties.
Etobicoke's Reliable Commercial Security Services Partner
Nestled in the vibrant hub of Ontario, Etobicoke, Vista Security has stood as a trustworthy shield for businesses since 1993. We are more than a mere provider of commercial security services; we are a certified ally committed to safeguarding your operations and facilitating your company's triumphant growth.
 As a premier source of Commercial Security Services in Etobicoke, our commitment transcends routine service provision. We sync with the pulse of this thriving city, customizing our commercial security strategies to address its distinctive needs. By merging cutting-edge security technology with our deep-seated industry knowledge, we deliver extensive, dependable protection for enterprises, regardless of their size.
 Our range of services, from proactive Security Guard Patrols to state-of-the-art Alarm Monitoring, ensures the safety of your business. Our competent security personnel, in conjunction with sophisticated security systems, establish a robust protective layer around your premises.
 We stand out in the commercial security field due to our flexible strategy. We continuously modify and enhance our security measures to counter emerging risks, ensuring your business remains safeguarded at all times.
 Whether your requirements are a detailed security plan or specific services such as Security Guard Patrol or Alarm Monitoring, Vista Security is your reliable ally for Commercial Security Services in Etobicoke. Trust in our certified security offerings and enjoy peace of mind, knowing your business is perpetually in the care of experienced professionals.
Etobicoke's Preferred Commercial Security Systems Provider
Experience heightened business security with Etobicoke's leading Commercial Security Services & Systems offered by Vista Security. We deliver unmatched security solutions, focusing on safeguarding your team, operations, and physical assets. With our broad alliance of technological partners, we present innovative systems, custom-tailored to meet each client's unique needs, reaffirming our position as Etobicoke's most reliable provider of Commercial Security Services & Systems.
 In our technology-driven era, security extends beyond conventional locks and keys. Recognizing this, we're proud to present our wide array of premium Commercial Surveillance Cameras in Etobicoke. Our integrated CCTV and IP video surveillance systems deliver exceptional image clarity, ensuring no vital activity goes unnoticed. Powered by state-of-the-art technology, these surveillance systems act as vigilant protectors of your business premises, offering continuous monitoring.
 Our services go beyond surveillance. We empower businesses with our smartly designed Access Control Systems. Each of these systems is intricately designed to offer complete control over interaction with your organization's valuable assets. Whether for single-door applications or multi-site infrastructures, our access control systems enable you to control entry permissions, thus enhancing your security.
 Supplementing our surveillance and access control offerings, we also provide robust Alarm Monitoring Services in Etobicoke. Managed by a team of dedicated professionals, our alarm monitoring system ensures quick and decisive actions against any security threats, enabling real-time interventions when necessary.
 As one of Etobicoke's top Security System Installation Companies, Vista's commitment to quality is unparalleled. Our team of skilled technicians supervises the entire installation process, from initial consultation and system design to deployment and routine maintenance. Our goal is to ensure a seamless installation experience, thus minimizing potential disruptions to your daily business operations.
 Discover why businesses across Etobicoke choose Vista for their security needs. We believe that security is more than just asset protection—it's about inspiring confidence and fostering resilience. Through our innovative commercial security services and systems, we remain committed to creating a safer business environment in Etobicoke.
24/7 Emergency Commercial Security Services in Etobicoke
At Vista, our focus extends beyond just delivering security; it's about fostering a worry-free environment. Guided by this core belief, we supply ongoing, 24-hour Emergency Commercial Security Services in Etobicoke. Facing a crisis, need clarification, or have an exceptional request? Please don't hesitate to contact us whenever suits you. We remain on standby, wholly committed to addressing your needs!
In addition to being the Premier Commercial Security Services & Systems Provider in Etobicoke, we also proudly serve: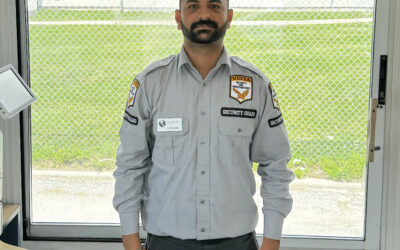 Employee Spotlight:Every quarter, we at Vista Security & Investigations like to shine the...