Trusted Commercial Security Services & Systems in Kitchener | Business Security Company
Vista Security is a trusted leader of Commercial Security Services & Systems in the Kitchener-Cambridge-Waterloo region, delivering comprehensive safety solutions for businesses. We value your enterprise's worth and are unwavering in our mission to protect it. Given the bustling life of our city, your security system should be designed to stay ahead of potential threats, and that's where Vista Security excels. Our pioneering security technology includes IP/CCTV Security Camera Systems, cutting-edge Access Control Services, and robust Alarm Systems, all designed to provide peace of mind and allow you to focus on your core operations.
 Our committed team, armed with top-tier technology, drives consistent innovation in creating security solutions that don't just react to threats but proactively guard your business. Our services range from diligent Security Guards and swift Mobile Patrol Security to detailed Private & Corporate Investigations Services. These elements harmonize with your business to foster a fortified, resilient environment.
 Regardless of your business's size or industry – from shopping malls to large office spaces, our security services are tailored to meet your unique needs in Kitchener, offering extensive, uncompromising protection. Our other specialty services, including Security Concierge Services, Loss Prevention, Event Security Services, Fire Watch Security, Mall Security, and Gatehouse Security, add further layers to your security fabric. Ready for a secure future? Experience the serenity of collaborating with Kitchener's premier commercial security provider – Vista Security. Welcome to a world of reliable security.
Kitchener's Prime Commercial Security Services & Systems Provider
Situated in the heart of Ontario's technology triangle, the Kitchener-Cambridge-Waterloo region boasts a bustling population of over 500,000. Known for its vibrant arts scene, historical landmarks, and influential tech sector, the city also houses numerous businesses and institutions, all needing robust, reliable security solutions. Vista Security is committed to providing unmatched commercial security services and systems in Kitchener, ensuring the safety of assets and people that make the city unique.
 Vista Security offers a comprehensive range of services tailored to meet the diverse security requirements of Kitchener's commercial sector. From deploying skilled Security Guards for on-site security to offering state-of-the-art CCTV/IP Security Camera systems, we've got your protection covered. Our Mobile Patrol Security ensures proactive safeguarding of your premises, while our Access Control Security Services maintain your facility's restricted areas secure. Whether you need Event Security Services for an art festival or Fire Watch Security for a tech convention, Vista Security is your dependable partner in preserving peace and safety.
 Vista Security's approach to providing commercial security services in Kitchener extends beyond traditional methods. Our Alarm Security Systems utilize the latest security technology, providing real-time surveillance and rapid Alarm Response Security & Protection. Plus, our Security Concierge Services blend hospitality with security, ensuring a safe and welcoming environment for your clientele. We understand the pulse of Kitchener – its vibrant culture, diverse businesses, and unique security needs. Trust Vista Security to protect your commercial interests in Kitchener with diligence, professionalism, and a commitment to excellence.
Commercial Security Services Kitchener
Within Kitchener's vibrant cityscape, Vista Security has been providing reliable protection for businesses since 1993. More than just a security service provider, we serve as a trusted partner dedicated to ensuring your safety and the prosperity of your enterprise.
As a leading provider of Commercial Security Services in Kitchener, we do more than just offer services. We understand the pulse of this dynamic city and shape our commercial security solutions to suit its unique needs. Leveraging advanced security technology and our industry expertise, we deliver comprehensive, dependable protection for businesses like yours.
From diligent Security Guard Patrols to state-of-the-art Alarm Monitoring, we provide a full range of services to ensure your business remains safe and secure. Our highly-trained security personnel and cutting-edge alarm systems collaborate to establish a protective barrier around your business.
 However, what distinguishes us in the business security space is our adaptive methodology. We continuously evolve and refine our security solutions to stay ahead of emerging threats, ensuring your business always remains secure. Whether you require an all-encompassing security strategy or specific services like Security Guard Patrol or Alarm Monitoring, consider Vista Security your trusted partner for Commercial Security Services in Kitchener. With our accredited security services, you can have peace of mind knowing your business is in safe, professional hands.
Commercial Security Systems Kitchener
Boost your business's protection with Vista's top-tier Commercial Security Systems in Kitchener. Offering advanced protective measures, we prioritize safeguarding your team, operations, and physical resources. Through collaborations with a range of trusted technology partners, we deploy state-of-the-art systems tailored to the unique needs of each client, making us Kitchener's preferred resource for Commercial Security Systems.
 In the fast-paced digital age, securing your business extends beyond simply locking the doors. In response, our comprehensive suite includes high-resolution Commercial Surveillance Cameras in Kitchener. Our network of CCTV and IP video surveillance systems deliver matchless visual clarity, ensuring continuous monitoring of your premises.
 Vista's services go beyond simple surveillance. We equip businesses with our sophisticated Access Control Systems. These systems are carefully crafted to give you stringent control over who or what interacts with your organization's most valuable assets. From single-door to multi-site systems, our access control solutions ensure you maintain ultimate control over access permissions, providing an additional layer of security.
 To supplement our surveillance and access control systems, we offer highly responsive Alarm Monitoring Services in Kitchener. With a team of dedicated professionals working around the clock, our alarm monitoring services ensure immediate action against security threats, providing real-time interventions when necessary.
 Among the Security System Installation Companies in Kitchener, Vista sets the standard. Our skilled technicians manage the entire installation process, from initial consultation and system design to deployment and routine maintenance. Trust us to provide a seamless, disruption-free installation experience, allowing you to continue your daily business operations smoothly.
 Discover why businesses across Kitchener turn to Vista for unparalleled protection. We believe in providing security that not just safeguards assets but also instils confidence. With our modern commercial security systems, we're committed to making Kitchener a safer place for businesses to prosper.
24/7 Business Security and Emergency Service in Kitchener
With Vista, it's not just about security; it's about offering you peace of mind. That's why we provide round-the-clock security and emergency services. Have an emergency, question or request? Feel free to call us anytime; we're always ready to assist!
In addition to being one the most trusted Commercial Security Services & Systems Providers in Kitchener, we also proudly serve: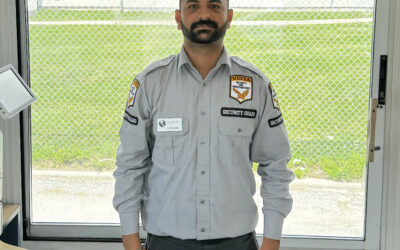 Employee Spotlight:Every quarter, we at Vista Security & Investigations like to shine the...