Pioneering Commercial Security Services & Systems in Hamilton
Welcome to Vista Security, your premier provider of commercial security services and systems in Hamilton. We're dedicated to helping businesses like yours safeguard their assets and secure their premises with an assortment of top-quality services and modern security systems. From proactive mobile patrol security to meticulous alarm response security & protection, we've designed our services to meet the unique requirements of our diverse clientele.
 Our vast range of services extends far beyond basic security measures. We take pride in our specialized security concierge services, renowned for their professionalism and discretion. Vista Security also offers thorough private & corporate investigations services, focusing on mitigating potential threats before they pose a risk. Our experienced loss prevention team aids businesses in reducing shrinkage, further fortifying your commercial security.
 At Vista Security, we leverage the power of cutting-edge technology to augment our security services. With systems such as CCTV/IP Security Cameras and Access Control Security Services, we provide a robust, visible deterrent to potential criminal activities. Our alarm security systems are among the best in the industry, engineered to respond swiftly to any disturbances, ensuring your commercial property remains secure at all times.
 Whether it's securing an event, offering fire watch security, or ensuring the safety of mall patrons, Vista Security stands as the hallmark of reliability in the field of commercial security services and systems in Hamilton. Trust in our dedicated team and comprehensive solutions for peace of mind in your commercial security needs. With Vista Security, your business is our top priority.
Vista Security: Your Commercial Security Services & Systems Provider in Hamilton
Hamilton, a bustling metropolis located in the heart of the Golden Horseshoe region in Southern Ontario, is home to over 7.8  million residents. This vibrant city is known for its impressive landmarks, such as the Royal Botanical Gardens, Canadian Warplane Heritage Museum, and the stunning Hamilton Waterfront Trail. It's a thriving hub for businesses, industries, and retail establishments alike. But with its rapid growth, maintaining the security of commercial enterprises is of utmost importance. That's where Vista Security steps in with its comprehensive suite of commercial security services and systems.
 At Vista Security, we understand the unique security needs of Hamilton businesses. We offer a broad range of services such as Security Guard provision, Mobile Patrol Security for extensive grounds and properties, and Alarm Response Security & Protection to swiftly manage any potential threats. For enterprises needing specialized services, we provide Security Concierge Services, Private & Corporate Investigations Services, and Event Security Services, all tailored to the specific needs of your organization.
 When it comes to systems, our high-tech CCTV/IP Security Camera setups, sophisticated Access Control Security Services, and reliable Alarm Security Systems are designed to deter any unwanted incidents and ensure the safety of your premises. We integrate the latest Security Technology to provide efficient, real-time security solutions, making Vista Security the go-to Commercial Security Services & Systems in Hamilton. Trust us to safeguard your business because, at Vista Security, your safety is our top priority.
Commercial Security Services Hamilton
Vista Security, an integral part of Hamilton's vibrant urban landscape, has been steadfastly safeguarding businesses since 1993. More than just a provider of commercial security services, we view ourselves as an accredited partner, wholly committed to your safety and your business's prosperity.
 As a leading provider of Commercial Security Services in Hamilton, our role extends beyond mere service delivery. We grasp the pulse of this dynamic city and shape our commercial security strategies to meet its unique needs. Leveraging advanced security technology and industry expertise, we provide comprehensive, trustworthy protection for businesses like yours.
 From alert Security Guard Patrols to state-of-the-art Alarm Monitoring, we offer a complete suite of services to guarantee your business's safety. Our highly-trained security personnel and cutting-edge security alarms collaborate to form a formidable fortress of protection around your enterprise.
 Our distinctive offering in the sphere of business security is our adaptive strategy. We continuously evolve and refine our security solutions to stay a step ahead of emerging threats, ensuring your business is always protected.
Whether you require a holistic security strategy or specific services like Security Guard Patrol or Alarm Monitoring, Vista Security should be your first choice for Commercial Security Services in Hamilton. With our certified security services, you can confidently entrust your business's safety into our capable, professional hands.
Commercial Security Systems Hamilton
Elevate your organization's safeguarding protocol with Vista's elite Commercial Security Solutions in Hamilton. At Vista, the safety of your workforce, commercial properties, business operations, and tangible resources takes precedence, enabling us to deliver superior protective services. Working hand in hand with reputable technology associates, we roll out bespoke security configurations to meet the individualized requirements of our clientele, establishing us as a favoured choice for Commercial Security Solutions in Hamilton.
 In today's swiftly progressing digital landscape, safeguarding your enterprise encompasses more than merely protecting physical locations. Keeping this in mind, we offer an all-inclusive selection of Commercial Surveillance Systems in Hamilton featuring ultra-high-resolution cameras. Our ensemble of CCTV and IP video surveillance services guarantees exceptional image quality, ensuring that no event escapes attention. Backed by state-of-the-art technology, these surveillance systems function as the ever-watchful eyes of your enterprise, scrutinizing every nook and cranny of your premises 24/7.
 Apart from surveillance, Vista's services also equip businesses with our advanced Entry Management Solutions. These systems are expertly tailored to grant decisive control over interactions with your organization's most prized possessions. From singular entry points to multiple site systems, our entry management solutions promise you supreme authority over access permissions, thus fortifying your security.
 In addition to our surveillance and access control systems, we also offer dependable Alarm Response Services in Hamilton. Our devoted professionals provide round-the-clock surveillance, ensuring instant response to security threats and facilitating real-time interventions when needed.
 Learn why businesses across Hamilton trust Vista for unparalleled protection. We believe in delivering security that not only safeguards assets but also instills confidence. With our cutting-edge commercial security systems, we are committed to making Hamilton a safer place for businesses to flourish.
24/7 Business Security and Emergency Service in Hamilton
With Vista, it's not just about security; it's about providing you with peace of mind. That's why we offer 24/7/365 security and emergency service. Have an emergency, question or request? Reach out to us anytime; we're always available to assist!
In addition to being the Premier Commercial Security Services & Systems Provider in Hamilton, we also proudly serve: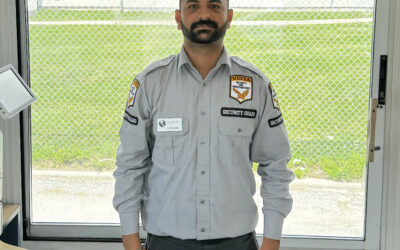 Employee Spotlight:Every quarter, we at Vista Security & Investigations like to shine the...