Premier Commercial Security Services & Systems in London
As an industry leader, Vista Security has carved a niche in the realm of Commercial Security Services & Systems in London. We are dedicated to delivering superior safety solutions tailored to your business needs. In a city that buzzes around the clock, it's imperative to have proactive security measures in place. Vista Security excels in providing just that, with cutting-edge CCTV/IP Security Camera Systems, sophisticated Access Control Services, and reliable Alarm Systems offering an unmatched safety umbrella. This allows you to concentrate on running your business while we take care of securing your workspace.
 Our proficient team, utilizing the newest technologies, consistently pushes boundaries in innovation, crafting premier security strategies that proactively deter threats rather than just reacting to them. Our comprehensive services range from diligent Security Guards and swift Mobile Patrol Security to insightful Private & Corporate Investigation Services. This creates a robust, resilient security setup that integrates smoothly with your business operations.
 Regardless of your business type or size, be it stylish retail boutiques or sprawling office complexes, our security services in London are customized to your specific requirements, promising comprehensive, unwavering protection. Additional specialized services like Security Concierge Services, Loss Prevention, Event Security Services, Fire Watch Security, Mall Security, and Gatehouse Security fortify your security infrastructure. Are you ready to secure your business's future? Enjoy the tranquillity that comes with engaging London's premier commercial security provider – Vista Security. Welcome to a new age of enhanced security.
Vista Security – London's Leading Provider of Commercial Security Services & Systems
London, a vital component of Southern England's vibrant core, is renowned for its rich cultural tapestry, magnificent structures, and thriving industries. Vista Security provides top-notch Commercial Security Services & Systems in London, ensuring safety for enterprises across diverse industries and scales.
In the digital age, robust and technology-oriented security systems are a non-negotiable for safeguarding businesses, employees, and priceless assets. Vista Security addresses these necessities with superior security offerings like CCTV monitoring, access control, intrusion detection, and fire alarm monitoring systems.
As the business landscape of London is dynamic, flexible security solutions are essential. Vista Security's services adapt to fit your business, ensuring unbroken protection regardless of scale or complexity. We focus on understanding your unique needs and suggesting the most suitable security strategies for your business. Trust Vista Security for reliable, top-quality commercial security services in London—Your security is our foremost priority.
Commercial Security Services in London
In London's vibrant cityscape, Vista Security has been a trusted business protector since 1993. We aren't just a provider of commercial security services; we are a certified ally, unwavering in our dedication to your safety and your venture's success.
Our role as a leading provider of Commercial Security Services in London goes beyond just delivering services. We comprehend the rhythm of this dynamic city and tailor our commercial security solutions to its distinct needs. Utilising state-of-the-art security technology and our industry expertise, we provide holistic, dependable protection for businesses like yours.
From vigilant Security Guard Patrols to cutting-edge Alarm Monitoring in London, we offer a full range of services to ensure your business's security. Our highly trained security personnel and advanced security alarms together create a robust shield of protection around your enterprise.
What sets us apart in the realm of business security is our adaptive approach. We continuously evolve and refine our security solutions to stay ahead of emerging threats, guaranteeing your business is perpetually safeguarded. Whether you require an all-encompassing security strategy or specific services like Security Guard Patrol or Alarm Monitoring in London, Vista Security is your trusted partner. Our accredited security services let you relax, knowing your enterprise is under the watchful eyes of experts.
Commercial Security Systems in London
Enhance your business's security stature with Vista's premium Commercial Security Systems in London. Offering advanced security measures, we prioritize the safety of your team, operations, and invaluable assets. Working closely with a network of reliable technology partners, we implement sophisticated systems customized to the distinct needs of each client. This sets us apart as the favoured choice for Commercial Security Systems in London.
 In the fast-paced digital world, securing your business is more than just physical locks. Accordingly, our comprehensive suite includes high-definition Commercial Surveillance Cameras in London. Our range of CCTV and IP video surveillance solutions provide unparalleled visual clarity, ensuring you are always aware of your premises' activities. These surveillance systems, coupled with innovative technology, act as your business's continuous watch, monitoring every corner of your premises 24/7.
 In addition to surveillance, Vista's services equip businesses with sophisticated Access Control Systems for Businesses. These systems are meticulously designed to give you strict control over access to your organization's critical assets. Our access control solutions range from single-door to multi-site systems, ensuring you have the ultimate authority over entry permissions and providing an added layer of security.
 Complementing our surveillance and access control systems, we offer reliable Alarm Monitoring Services in London. A team of dedicated professionals ensures a swift response to security threats, providing real-time interventions when necessary.
 Among the Security System Installation Companies in London, Vista stands out. Our skilled technicians manage the entire installation process, from initial consultation and system design to deployment and regular maintenance. Trust us to deliver a smooth, hassle-free installation experience, thereby minimizing potential disruptions to your daily business operations.
 Find out why businesses across London choose Vista for unparalleled protection. We believe in delivering security that not only safeguards assets but also instils confidence. With our advanced commercial security systems, we are committed to making London a safer place for businesses to thrive.
24/7 Business Security and Emergency Service in London
With Vista, it's not just about security; it's about guaranteeing peace of mind. That's why we offer 24/7/365 security and emergency service. Need immediate assistance, have a question or a request? Feel free to call us anytime; we're always ready to help!
In addition to being one the most trusted Commercial Security Services & Systems Providers in Kitchener, we also proudly serve: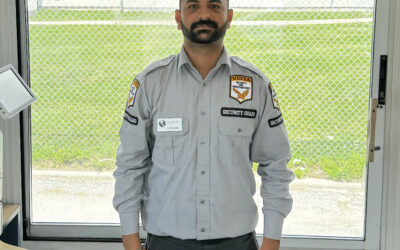 Employee Spotlight:Every quarter, we at Vista Security & Investigations like to shine the...