Commercial Security Services & Systems in Mississauga | Business Security
Vista Security is recognized as a reputable provider of comprehensive Commercial Security Services & Systems in Mississauga. We offer a wide range of customized security solutions that are meticulously crafted to meet your specific needs, with the objective of safeguarding your property, individuals, and valuable assets.
 Our business security services include proficient Security Guard Services, efficient Mobile Patrol Security, effective Alarm Response Security & Protection, and specialized Security Concierge Services. Our skilled team is adept at handling Private & Corporate Investigations, ensuring your complete peace of mind. We bring expertise in diverse fields such as Loss Prevention, Event Security Services, Fire Watch Security, Mall Security, and Gatehouse Security, putting your safety at the forefront of our priorities.
 Our security systems leverage state-of-the-art technology to secure your commercial space. We offer CCTV/IP Security Cameras for round-the-clock surveillance of your premises. Additionally, our advanced Access Control Security Services empower you to control and monitor personnel movement for enhanced security. Our technologically advanced Alarm Security Systems are designed to swiftly detect potential threats and respond immediately to any security breach.
 Trust Vista Security for thorough, dependable, and trustworthy Commercial Security Services & Systems in Mississauga. Our unwavering commitment to quality and excellence has established us as the go-to choice for businesses seeking a secure and safe environment. We consider your security our mission.
Mississauga's Most Reliable Commercial Security Services & Systems Provider
At Vista Security, we are proud to offer top-of-the-line Commercial Security Services & Systems in Mississauga. As a city that boasts a vibrant population of nearly  800,000 residents and landmarks such as the Art Gallery of Mississauga and the iconic Square One Shopping Centre, we understand the diverse security needs that exist within this thriving urban landscape. Our Security Guard and Mobile Patrol Security services, for instance, are particularly popular for providing a visible deterrent against crime around retail centres and corporate businesses.
 Our Alarm Response Security & Protection, combined with innovative security technology such as CCTV/IP Security Cameras and Alarm Security Systems, deliver an advanced layer of protection for businesses. We cater to various establishments ranging from local shops to major corporate buildings, reflecting the commercial landscape of Mississauga. Our Access Control Security Services also prove integral to many businesses, ensuring only authorized personnel can access certain areas, a crucial measure in securing sensitive business data.
 Finally, unique services like Private & Corporate Investigations Services, Fire Watch Security, and Loss Prevention are part of our extensive portfolio, addressing more specific security concerns. Mississauga, with its plethora of corporate offices, high-profile events, and bustling malls, often requires such specialized services to keep its environments secure and its people safe. Trust Vista Security to provide unparalleled commercial security solutions tailored to the dynamic cityscape that is Mississauga.
Expert Commercial Security Services Mississauga
Nestled within Southern Ontario's vibrant core, Mississauga is where Vista Security has been safeguarding businesses since 1993. As a trusted partner, we pride ourselves on our unwavering commitment to ensure not only your safety but also the thriving prosperity of your enterprise. As a leading provider of Commercial Security Services in Mississauga, we don't merely deliver services; we echo the rhythm of this lively city, tailoring our commercial security solutions to address its distinct requirements.
 By integrating sophisticated security technology with our expansive industry experience, we provide comprehensive, reliable protection to businesses across the spectrum. Our services, which range from vigilant Mobile Patrol Security to cutting-edge Alarm Security Systems, ensure a fortified safeguard around your establishment.
 Our unique selling proposition lies in our agility and adaptability. We continually refine and bolster our security strategies to counter evolving threats, keeping your business perpetually secure.
 Whether you're in need of a thorough security plan or specific services like Gatehouse Security or Event Security Services, Vista Security is your go-to resource for Commercial Security Services in Mississauga. Place your trust in our accredited security services, and take comfort in the knowledge that experienced professionals are attentively guarding your business.
Reliable Commercial Security Systems Mississauga
Experience a new dimension of business protection with Mississauga's top-tier Commercial Security Services & Systems provided by Vista. We deliver nothing but the finest in security solutions, meticulously focusing on safeguarding your team, operational processes, and tangible assets. By harnessing our diverse network of tech partners, we introduce forward-thinking systems, bespoke to match each client's distinct needs, thus cementing our position as the most trusted source for Commercial Security Services & Systems in Mississauga.
 At Vista Security, we understand the necessity of modern security solutions in our rapidly evolving digital landscape. That's why we offer our superior range of Commercial Surveillance Cameras in Mississauga. Our state-of-the-art CCTV and IP video surveillance systems ensure top-tier visual quality, making sure nothing of importance is missed. These advanced surveillance networks act as ceaseless watchdogs over your business premises, offering unwavering scrutiny around the clock.
 But surveillance is just one aspect of our comprehensive services. We strengthen businesses with our carefully designed Access Control Systems. These systems are built with the aim of ensuring absolute control over your organization's prized assets. From single-door operations to multi-site architectures, our access control systems grant you complete control over entrance permissions, adding an impregnable layer to your security infrastructure.
 Supplementing our surveillance and access control services, we also deliver robust Alarm Monitoring Services in Mississauga. Operated by a crew of dedicated professionals, our alarm monitoring services pledge quick and firm responses to any potential security threats, facilitating real-time actions when required.
 As a leading provider of Security System Installation Services in Mississauga, Vista's commitment to excellence remains unrivalled. Our skilled technicians oversee the complete installation process, from initial consultation and system planning to execution and ongoing maintenance. Our mission is to offer a seamless installation experience, minimizing disruption to your regular business operations.
 Discover why businesses throughout Mississauga trust Vista for their security requirements. We believe security extends beyond safeguarding assets—it's about nurturing confidence and resilience. With our advanced commercial security services and systems, we remain steadfast in our commitment to a safer business environment in Mississauga.
24/7 Emergency Commercial Security Services in Mississauga
At Vista, our objective is to provide a sense of peace in addition to security. This dedication motivates us to give continuous 24/7 Emergency Commercial Security Services in Mississauga. Have you encountered an emergency, have a question, or have a particular request? Please do not hesitate to contact us at any time. We are always available and committed to assisting you!
In addition to being the Premier Commercial Security Services & Systems Provider in Mississauga, we also proudly serve: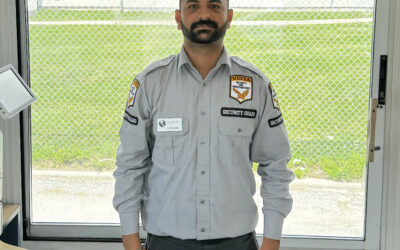 Employee Spotlight:Every quarter, we at Vista Security & Investigations like to shine the...