Commercial Security Services & Systems in Calgary | Alarm, Surveillance & More
Vista Security stands as the reliable source for Commercial Security Services and Systems in Calgary. Our goal is to provide personalized security strategies that meet your specific needs, thereby ensuring top-notch protection for your property, employees, and assets.
 Our exhaustive service offerings encompass expert Security Guard services, dynamic Mobile Patrol Security, quick Alarm Response Security & Protection, and unique Security Concierge Services, a testament to our extensive capabilities. We're adept in conducting Private & Corporate Investigations, striving to ensure your peace of mind. Our skillset covers Loss Prevention, Event Security Services, Fire Watch Security, Mall Security, and Gatehouse Security – your safety is our primary concern.
 When it comes to our security systems, we leverage advanced technology to protect your commercial spaces. Our CCTV/IP Security Cameras provide live monitoring, guaranteeing continuous surveillance of your premises. Our advanced Access Control Security Services give you the power to regulate and monitor personnel movement, enhancing security. Our state-of-the-art Alarm Security Systems utilize cutting-edge technology to detect potential threats, ensuring an immediate response to any security breaches.
 Rely on Vista Security for comprehensive and trustworthy Commercial Security Services & Systems in Calgary. Our dedication to superior standards sets us apart as the preferred choice for businesses requiring a secure environment. Your security is our mandate.
Calgary's Renowned Provider of Commercial Security Services & Systems
Situated in the heart of Western Canada, Calgary is a bustling city known for its distinct blend of urban and Western cultures. With a population of over 1.6 million, it serves as the headquarters for many major businesses, including the oil and gas industry, and boasts notable landmarks like the Calgary Tower and the iconic Scotiabank Saddledome. At Vista Security, we understand the unique security needs of Calgary's diverse community and are committed to providing tailored Commercial Security Services & Systems in Calgary to safeguard its people, businesses, and infrastructure.
 In this fast-paced environment, security services like our Mobile Patrol Security and Security Concierge Services are in high demand. Our Security Guards and Mobile Patrol units ensure the safety and peace of mind of our clients in busy shopping centres like Chinook Centre or during public events held at Stampede Park. Furthermore, our Private & Corporate Investigations Services are crucial for local businesses seeking to mitigate risk, ensure compliance, and address potential security threats. With the added presence of Alarm Response Security & Protection, we provide timely intervention in case of emergencies, offering a comprehensive security approach that Calgary's populace can rely on.
 Alongside these services, Vista Security is at the forefront of leveraging modern security systems in Calgary. Our CCTV/IP Security Camera and Alarm Security Systems are integral for maintaining constant surveillance and quick detection of any possible threats, thus enhancing the security landscape in public spaces and corporate settings alike. Our advanced Access Control Security Services enable businesses to control and monitor access to their premises, enhancing their security measures in a city known for its booming economy. Trust Vista Security to deliver unparalleled commercial security services and systems in Calgary, where we combine our industry knowledge and cutting-edge technology to provide a secure environment for all.
Calgary's Reliable Commercial Security Services Provider
Situated in the energetic core of Calgary, Alberta, Vista Security has been a guardian of businesses and commercial properties since 1993. More than just a provider of commercial security, we're a trusted ally devoted to ensuring your safety and fostering your business's progressive expansion.
 As a premier commercial security service entity in Calgary, our dedication extends beyond the basic provision of services. We are in tune with the vibrant heartbeat of this bustling city, tailoring our commercial security strategies to meet its unique requirements. We blend state-of-the-art security technology with our wide-ranging industry knowledge to deliver thorough, reliable safeguarding for businesses, irrespective of their size.
 From proactive Security Guard Patrols to groundbreaking Alarm Monitoring, our diverse suite of services guarantees your business's security. Our proficient security team and cutting-edge security systems collaboratively form a formidable defence barrier for your facility.
 Our innovative approach sets us apart in the commercial security sector. We consistently evolve and refine our security measures to stay one step ahead of emerging risks, ensuring your business is perpetually defended.
 Whether your needs encompass a detailed security plan or specific services like Security Guard Patrol or Alarm Monitoring, Vista Security stands as your dependable collaborator for Commercial Security Services in Calgary. Place your faith in our certified security solutions and take comfort in knowing your business is under the unwavering supervision of experienced professionals.
Calgary's Most Trusted Commercial Security Systems Provider
Elevate your business protection with superior Commercial Security Services & Systems, courtesy of Vista Security in Calgary. We are known for our unparalleled security offerings that prioritize the safeguarding of your personnel, operations, and tangible property. Our wide-ranging network of technology associates enables us to present groundbreaking systems customized to each client's unique requirements. This underpins our status as the go-to provider of Commercial Security Services & Systems in Calgary.
 In today's technology-centric world, security encompasses more than mere locks and keys. We are proud to put forth our broad assortment of premier Commercial Surveillance Cameras in Calgary. Our interconnected CCTV and IP video surveillance systems produce superior image quality, ensuring that no significant event goes unnoticed. These surveillance systems, backed by state-of-the-art technology, provide constant monitoring and act as steadfast protectors of your business property.
 Beyond surveillance, our offerings also include a variety of cleverly engineered Access Control Systems. Each system is carefully designed to offer you control over access to your organization's vital assets. From single-door uses to large-scale infrastructure, our access control systems empower you to control entry authorizations, thus enhancing your security measures.
 Complementing our surveillance and access control solutions, we also provide dependable Alarm Monitoring Services in Calgary. This service is managed by our devoted team of experts, ensuring prompt and effective responses to any security alerts and enabling real-time interventions when required.
 Vista Security stands among Calgary's top-tier Security System Installation Companies, renowned for its unwavering dedication to quality. Our team of proficient technicians handles the entire installation process, from the initial consultation and system design to execution and regular maintenance. Our goal is to provide a smooth installation experience, minimizing any possible disruptions to your everyday business procedures.
 Explore why businesses throughout Calgary prefer Vista for their security requirements. We hold a firm belief that security is not just about protecting assets—it's about inspiring confidence and cultivating resilience. Through our innovative commercial security services and systems, we pledge our commitment to creating a safer business climate in Calgary.
24/7 Emergency Commercial Security Services in Calgary
At Vista, we focus not just on providing security but also on ensuring peace of mind. This commitment leads us to offer uninterrupted, 24-hour Emergency Commercial Security Services in Calgary. Be it an emergency, a need for clarification, or a special request, we're always ready to help. We're consistently available and dedicated to meeting your needs.
In addition to being the Premier Commercial Security Services & Systems Provider in Toronto, we also proudly serve: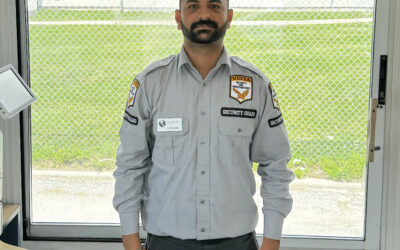 Employee Spotlight:Every quarter, we at Vista Security & Investigations like to shine the...