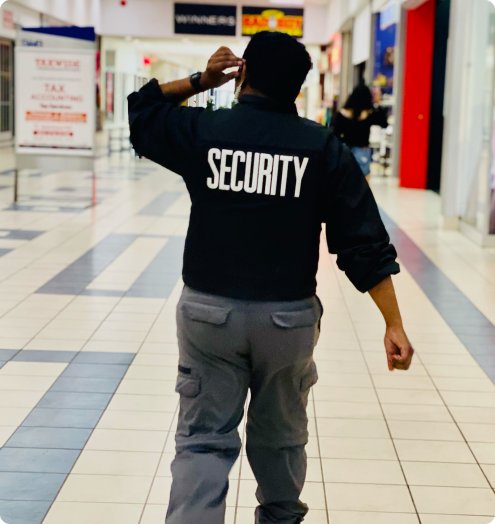 Fuel your passion and challenge your skills by joining our team! By becoming an integral part of Vista Security & Investigations, team members obtain certification as well as benefit from continuous training and upskilling. If you're looking to join a growing and proud profession where no day is the same, join our team! With many sites located throughout the GTA, Vista employees enjoy a flexible workplace where everyone's time and talent are valued.
 Benefits include
Health care benefits for all full-time staff.
Flexible work hours.
Working in a diverse team environment where everyone feels respected.
Vista's reward program where we recognize guards for going above and beyond. Recipients receive a certificate of recognition signed by our company President and VP of Operations along with additional incentives as a token of our gratitude.
Access to 24-hour dispatch team via call or text for all guards. Our dispatch team is there to assist in times of emergency or if there's a need for additional assistance with their schedule, standing orders or general inquiries.
Guard Training and Certification – Learn more below.
We're a Team That Feels Like a Family.
Come Join Us.
If there's a position you'd like to apply for, kindly submit your resume through our website or on one of our Indeed job postings. If you are selected for an interview, someone from our management team will be in contact with you.
Vista also accepts employee referrals! If you know someone who has worked with Vista or currently works with Vista and would like to refer you, please have them send your resume to hiring@vistasecurity.com along with your availability and the position you are looking for.
Thank you for your interest in joining the Vista team!
Full-Time Security Guard
Are you looking to become a police officer or paramedic and want to take the next step? This position is the perfect one for you. We are looking for someone with experience in the security industry who is looking to take their skills to another level. Training for the position will be provided on site. Two years of experience and report writing classes will all be considered a bonus. If you do not have any of the above, we will be providing classes.
Qualifications:
· Valid Security Guard License
· Current First Aid Certified
· Minimum two years Security Guard experience
· Superior communication/comprehension/writing skills
· Outstanding customer service skills
· Display exemplary deportment
· Leadership skills
· Computer Literacy
· Police Foundations/Law Enforcement an asset
Responsibilities:
· Exemplify our standards of conduct and appearance
· Responsible for the overall operations and patrol duties
· Oversee their Guards and ensure they perform their duties in compliance with the Site Post Orders
· Maintain Access Control to protect the personal safety and security of personnel, company building and fixtures, equipment and inventory, company trade name and all proprietary information.
· CCTV / Fire / Intrusion Alarm monitoring
· Assist Client management team in a professional manner as requested
· Other duties as outlined in Post Orders
Job Type: Full-time
How to Apply: Please send your resume to hiring@vistasecurity.com.
Joining Vista Security means becoming an important part of an inclusive workplace that values integrity, shares accountability and celebrates diversity. We are fuelled by our people's passions and are equally committed to supporting each other's needs, ideas and achievements. Every person is a valued and respected team member at Vista Security & Investigations, and on this, we never waver.