Expert Commercial Security Services & Systems in Toronto & GTA
Vista Security proudly stands at the forefront of Commercial Security Services & Systems in Toronto & the GTA, ensuring the utmost safety and protection for your business. We understand the worth of your business and are committed to safeguarding it. Living in a city that never sleeps, your security needs to be one step ahead, and that's where we come in. Our cutting-edge CCTV/IP Security Camera Systems, advanced Access Control Services, and dependable Alarm Systems are designed to give you an unparalleled level of assurance, letting you concentrate on your operations while we ensure your security. With Vista Security, you're opting for the most reliable commercial security in Toronto.
Our highly committed team, leveraging cutting-edge technology, continuously fosters innovation to deliver outstanding security solutions. These solutions are designed not just to respond to threats but to proactively safeguard your business operations. From our alert Security Guards and quick-response Mobile Patrol Security to our insightful Private and Corporate Investigation Services, we seamlessly blend with your business infrastructure to establish a secure environment. Trust in our professional approach to ensure an enduring layer of protection for your business.
No matter the size or type of your business, from retail stores and shopping malls to expansive office complexes, our security services are customized to meet your distinct needs in Toronto, providing comprehensive, uncompromising protection. Our additional specialized services, including Security Concierge Services, Loss Prevention, Event Security Services, Fire Watch Security, Mall Security, and Gatehouse Security, further strengthen your security infrastructure. Ready to secure your future? Experience the tranquillity that comes with partnering with Toronto's leading commercial security provider – Vista Security. Welcome to a world of enhanced security.
Vista Security – Toronto's Premier Commercial Security Services & Systems Provider
Toronto, Canada's largest city, and the Greater Toronto Area (GTA), with a combined population of over 6.3 million people, are hubs of multiculturalism, renowned landmarks like the CN Tower, and a myriad of businesses across diverse sectors. The GTA, extending around the city of Toronto, encompasses dynamic suburbs such as Mississauga, Brampton, and Vaughan. Within these urban and suburban landscapes, Vista Security provides an extensive portfolio of commercial security services crucial for preserving the peace of mind in these vibrant areas.
In both Toronto and the GTA, Vista Security offers steadfast Security Guard services, effective Mobile Patrol Security, and swift Alarm Response Security & Protection. These services are vital in protecting the wide range of businesses, properties, and residential communities that make up this vibrant metropolitan region. Our proficient Security Concierge Services blend seamlessly into the fabric of corporate and residential environments, managing access while providing a comforting presence. Additionally, our Private & Corporate Investigations Services play a key role in loss prevention across businesses in Toronto and the GTA, ensuring smooth operations and continuity.
Supplementing our services, Vista Security embraces cutting-edge security technology to enhance safety in commercial spaces throughout Toronto and the GTA. We offer specialized systems like CCTV/IP Security Cameras and Access Control Security Services, which are crucial in protecting busy shopping districts, corporate parks, and suburban neighbourhoods. Our sophisticated Alarm Security Systems deliver unparalleled protection for both people and assets, a primary concern in dynamic areas like Toronto and its surrounding regions. At Vista Security, we are dedicated to fostering a secure environment for all residents and businesses across Toronto and the GTA.
Commercial Security Services Toronto
In Toronto's dynamic urban landscape, Vista Security has been reliably safeguarding businesses since 1993. More than just a commercial security service provider, we are an accredited partner with a steadfast dedication to your safety and the prosperity of your enterprise. 
Our role as a leading provider of Commercial Security Services in Toronto goes beyond simple service provision. We understand the heartbeat of this dynamic city and tailor our commercial security solutions to meet its distinctive needs. Using advanced security technology coupled with our industry expertise, we deliver comprehensive, reliable protection for businesses like yours.
From vigilant Security Guard Patrols to cutting-edge Alarm Monitoring, we provide a full suite of services to ensure your business is safe and secure. Our highly-trained security personnel and state-of-the-art security alarms work in tandem to create a formidable shield of protection around your business.
But what truly sets us apart in the realm of business security is our adaptive approach. We constantly evolve and refine our security solutions to stay ahead of emerging threats, ensuring your business is always protected.
Whether you need a comprehensive security strategy or specific services like Security Guard Patrol or Alarm Monitoring, consider Vista Security your go-to partner for Commercial Security Services in Toronto. With our accredited security services, you can rest assured that your business is in safe, professional hands.
Commercial Security Systems Toronto
Elevate your business's security level with Vista's premier Commercial Security Systems in Toronto. Offering cutting-edge protection, we prioritize the safety of your team, operations, and physical assets. Leveraging an array of trusted technology partners, we deploy advanced systems that cater to the unique needs of each client, making us the go-to resource for Commercial Security Systems Toronto.
In today's evolving digital landscape, securing your business is more than just locking the doors. To this end, our comprehensive suite includes high-resolution Commercial Surveillance Cameras in Toronto. Our network of CCTV and IP video surveillance solutions deliver unparalleled visual clarity, ensuring you never miss a moment. Coupled with innovative technology, these surveillance systems serve as your business's unblinking eyes, monitoring every inch of your premises around the clock.
Vista's services extend beyond surveillance. We empower businesses with our sophisticated Access Control Systems for Businesses. These systems are meticulously designed to offer rigid control over who or what interacts with your organization's most valued assets. From single-door to multi-site systems, our access control solutions guarantee you have the final say on entrance permissions, providing an additional layer of security.
Complementing our surveillance and access control systems, we offer highly reliable Alarm Monitoring Services in Toronto. With a team of dedicated professionals working around the clock, our alarm monitoring services ensure immediate response to security threats, providing real-time interventions whenever necessary.
Among the Security System Installation Companies in Toronto, Vista sets the standard. Our skilled technicians handle the entire installation process, from initial consultation and system design to deployment and routine maintenance. Trust us to provide a seamless, hassle-free installation experience, thereby reducing any potential disruption to your daily business operations.
Discover why businesses across Toronto look to Vista for unparalleled protection. We believe in delivering security that is not just about safeguarding assets but also about instilling confidence. With our state-of-the-art commercial security systems, we are committed to making Toronto a safer place for businesses to thrive.
24/7 Business Security and Emergency Service in Toronto
With Vista, it's not just about security but also peace of mind. That's why we offer 24/7/365 business security and emergency service. Have an emergency, question or request? Give us a call anytime; we're always here to help!
In addition to being the Premier Commercial Security Services & Systems Provider in Toronto, we also proudly serve: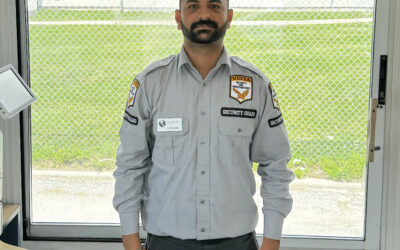 Employee Spotlight:Every quarter, we at Vista Security & Investigations like to shine the...