Guelph's Premier Solution for Commercial Security Services & Systems | Business Security
For the ultimate assurance in Commercial Security Services & Systems, Guelph businesses lean on the reputation of Vista Security. Our objective is to develop custom-made security plans, ensuring the safeguarding of your property, personnel, and assets, tailored to suit your distinct requirements.
 Our extensive suite of services includes professional Security Guard services, Mobile Patrol Security, swift Alarm Response Security & Protection, and exclusive Security Concierge Services, demonstrating our wide-ranging skills. We're proficient in conducting Private & Corporate Investigations, working towards your peace of mind. Our services extend to Loss Prevention, Event Security Services, Fire Watch Security, Mall Security, and Gatehouse Security – your security is our main concern.
 When it comes to our security systems, we leverage cutting-edge technology to protect your commercial properties. Our CCTV/IP Security Cameras allow for real-time monitoring, ensuring continuous oversight of your environment. Our sophisticated Access Control Security Services offer you the freedom to control and monitor staff movement, enhancing security. Our modern Alarm Security Systems utilize high-tech solutions to identify potential risks, assuring immediate action in case of any security violations.
 Place your trust in Vista Security for all-encompassing and trustworthy Commercial Security Services & Systems in Guelph. Our commitment to quality sets us apart as the go-to choice for businesses seeking a safe environment. Your security is our command.
Guelph's Specialists in Commercial Security Services & Systems
Located in the heart of Guelph, a vibrant city with a population of over 150,000, Vista Security is proud to offer cutting-edge, professional security services and systems tailored to meet the diverse needs of businesses and organizations in the area. Guelph boasts a dynamic economy driven by its robust manufacturing, education, and service sectors, making it essential for local businesses to protect their valuable assets and ensure the safety of their workforce and property.
 Vista Security's customizable services in Guelph include Security Guard, Mobile Patrol Security, Alarm Response Security & Protection, and Loss Prevention. Our advanced security systems, such as CCTV/IP Security Cameras and Access Control Security Services, further ensure comprehensive safety for our clients. Guelph is home to numerous landmarks, such as the Basilica of Our Lady Immaculate, making it essential to maintain a secure and welcoming environment for visitors and residents alike.
 Incorporating the latest security technology, Vista Security is dedicated to delivering unparalleled protection and peace of mind for the Guelph community. By utilizing our professional services, local businesses can focus on growth and success while feeling confident in their assets' safety and preparedness for any potential risks. Trust Vista Security to provide the most advanced and reliable Commercial Security Services & Systems that Guelph demands.
Guelph's Trusted Commercial Security Services Provider
In the heart of Ontario, Guelph, Vista Security has been a stalwart protector of businesses since 1993. We are more than a commercial security service provider; we are a certified partner committed to your safety and your company's continued growth.
 As a premier provider of Commercial Security Services in Guelph, our dedication goes beyond standard service delivery. We resonate with the vibrancy of this bustling city, customizing our commercial security solutions to meet its unique requirements. By combining advanced security technology with our extensive industry knowledge, we provide comprehensive, dependable protection for businesses of all sizes.
 From diligent Security Guard Patrols to innovative Alarm Monitoring, our wide spectrum of services ensures your business's security. Our trained security personnel and advanced security systems together create a formidable protective shield for your establishment.
 Our dynamic approach sets us apart in the business security industry. We consistently adapt and refine our security solutions to stay ahead of evolving threats, ensuring your business is always safeguarded.
 Whether you require a comprehensive security strategy or specific services like Security Guard Patrol or Alarm Monitoring, Vista Security is your trustworthy partner for Commercial Security Services in Guelph. Count on our certified security services and rest assured, knowing your business is under the unwavering watch of experienced professionals.
Guelph's Preferred Commercial Security Systems Provider
Elevate your business security with Guelph's top Commercial Security Services & Systems offered by Vista Security. We provide unparalleled security solutions, focusing on protecting your team, processes, and physical assets. With our extensive network of technological partners, we introduce innovative systems, custom-designed to meet each client's unique needs, reinforcing our reputation as Guelph's most reliable provider of Commercial Security Services & Systems.
 In today's technology-driven age, security surpasses traditional locks and keys. Recognizing this, we take pride in offering our wide array of premium Commercial Surveillance Cameras in Guelph. Our integrated CCTV and IP video surveillance systems deliver remarkable image quality, ensuring that no crucial activity goes unnoticed. Powered by cutting-edge technology, these surveillance systems serve as vigilant guardians of your business premises, offering continuous monitoring.
 Our services go beyond mere surveillance. We equip businesses with our ingeniously designed Access Control Systems. Each of these systems is meticulously designed to provide complete control over interactions with your organization's valuable assets. Whether for single-door applications or multi-site infrastructures, our access control systems allow you to control entry permissions, thus amplifying your security.
 Complementing our surveillance and access control services, we also provide robust Alarm Monitoring Services in Guelph. Managed by a team of dedicated professionals, our alarm monitoring system assures swift and decisive responses to any security threats, enabling real-time interventions when necessary.
 As one of Guelph's top Security System Installation Companies, Vista's commitment to quality is unmatched. Our team of skilled technicians oversees the entire installation process, from initial consultation and system design to deployment and regular maintenance. Our goal is to ensure a seamless installation experience, thus minimizing potential disruptions to your daily business operations.
 Discover why businesses across Guelph choose Vista for their security needs. We believe that security is more than just asset protection—it's about instilling confidence and fostering resilience. Through our pioneering commercial security services and systems, we remain committed to creating a safer business environment in Guelph.
24/7 Emergency Commercial Security Services in Guelph
At Vista, our priority goes beyond just providing security; it's about delivering peace of mind. This commitment drives us to offer continuous 24/7 Emergency Commercial Security Services in Guelph. Encountered an emergency, need a query resolved, or have a special request? Feel free to contact us at any time. We are always available and dedicated to serving you!
In addition to being the Premier Commercial Security Services & Systems Provider in Guelph, we also proudly serve: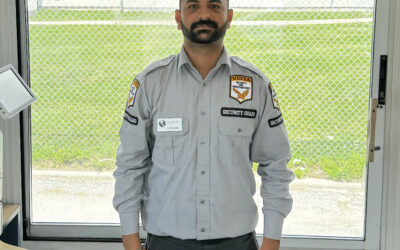 Employee Spotlight:Every quarter, we at Vista Security & Investigations like to shine the...